Céad míle fáilte!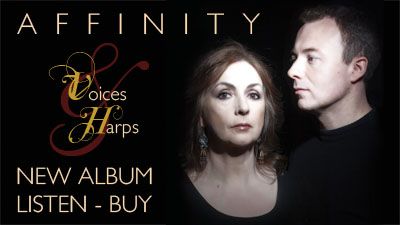 Moya Brennan and Cormac De Barra both come from large musical families in Ireland and their mutual admiration for each other naturally developed into a stimulating musical relationship. Welcome to their website!
Their new album, Affinity, (release June 2013) is their second and further demonstrates a partnership combining the simplicity, depth and beauty of the extraordinary skills which make them unique in their own field. Purchase Affinity HERE
Now in its third year, Moya and Cormac hold an exclusive Voices & Harps workshop in Donegal in June. See the WORKSHOP PAGE for full details and registration.
Had the most spectacular opeing to the first German Voices & Harps tour. Sell out audience in Knittlingen saw Moya, Cormac and Aisling in the best form ever. More pictures on Moya and Cormac's Facebook timeline
Moya and Cormac embark on a short tour of Germany on November 18. Come and see them at one of the following venues: 18.11 KNITTLINGEN St. Leonardskirche 19.11 MAINZ Frankfurter Hof 20.11 GOTHA Gothaer Kulturhaus 21.11 DRESDEN Lukaskirche 22.11 BRAUNSCHWEIG St. Jakobikirche 24.11 LÜNEBURG Ritterakademie
Affinity is now released for pre-order or direct purchase on iTUNES and at AMAZON
Next Events
Upcoming events coming shortly!